Book Review of The Bestseller by Nidra Naik in IBNS (India Blooms News Service)
An anthology of short stories, named "The Bestseller" by Nidra Naik is what I have been hooked to for the last few days. The collection contains six short stories.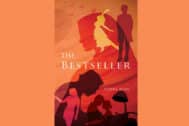 The stories are based on different subjects but the best part is that the art of storytelling would keep you hooked till the end—sometimes making you shed a few tears of empathy and sometimes making you feel nostalgic.
The story that impressed me the most is A Lot Like Love.
Here is a woman who has made herself capable enough to get a job in her dreamland—USA—at a time when the entire nation is under the grip of recession. People are being laid off for no apparent reason but the protagonist is talented enough to bag a lucrative job in this atmosphere. Of course she is overjoyed and wants to fly out and start living her dream.
But there's a man in her country who needs her in his life, a man who loves her like crazy, and who doesn't believe in long distance relationships.
And the catch is she loves him too.
She loves both—the man and her dream.
So what should the woman do?
This is a bittersweet love story that speaks of a love that cannot be erased by distance and time.
Time, society, practical needs—life moves on, man moves on.
But once your heart learns to love someone truly, it stays static, unmoving, stationary. And, then life becomes this strange tussle between the moving and the unmoving.
In such a situation what if the past comes revisiting?
Naik has penned a beautiful and haunting tale of two estranged lovers that enhances the value of this anthology.
The second story in the book is about a girl who has a very simple dream—that of owning a king-size bed like the one that her beloved, late grandmother had when she was little.
I must confess that there the premise of the story is nothing grand or path-breaking. But there is this subtlety in the story that got to me.
Life is not all about big plans and big dreams.
There are so many small things, so many small emotions that linger in our deepest conscience.
In our daily lives, when we are so busy in attending to the bigger needs of survival, these small, unsaid emotions can get easily neglected.
This story, though very simple in its treatment, made me connect to some of those small thoughts inside me—and maybe these small things—and not the big ones—are what make us individual beings, make us different from one another.
The other story that I would absolutely have to talk about is the Black Idol.
A successful, young doctor leaves behind his high flying career in a renowned city hospital and moves to a small village to justify the call of his heart—that is the premise of this story.
This story has so much to teach us.
Yes, it is not wrong to dream of a bright career, to dream of a luxurious and comfortable lifestyle.
But as a human being our responsibility doesn't end with ourselves and our family.
As a citizen we are equally responsible to the nation where we are born. As a human being, we must feel equally responsible towards our fellow citizens.
This story is definitely able to inspire readers to think beyond their own circle of comfort and that is a commendable achievement for any writer.
All in all, this anthology is definitely a must read in these lazy summer afternoons.
The book is priced at Rs 399. It is also available at Amazon, Flipkart, Snapdeal, power-publishers.com, infibeam, readwhere, ebay and paytm.
Reviewed by Priya Das