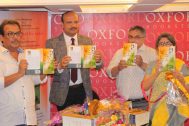 Kolkata, 17 August 2018: Hamare Azadi ki Ladai, a book containing untold heroic stories of unsung and unknown freedom fighters who fought for India's freedom, was released at Oxford Bookstore, today. The book authored by renowned historian Govind Prasad Srivastava was formally inaugurated by filmmaker Aniket Chattopadhyay, author-social-activist Sumitra Padmanabhan and journalist-author Ritwik Mukherjee.
The book Hamare Azadi ki Ladai is published by Power Publishers on the occasion of India's 72nd Independence Day. The late author's son Anand Srivastava who flew from London to attend the event of his father's book launch, read out excerpts of the book that brought out untold facts about Jalianwallabad massacre. He said that the book tries to talk of many heroic stories of freedom struggle that most Indians are unaware of. There were many brave people who contributed to India's struggle for freedom from British imperialism, whose contributions are undocumented and untold in any book before this. The book tries to bring forward these forgotten heroes and unknown stories of known heroes of India's nationalist movement.
Journalist turned filmmaker Aniket Chattopadhyay spoke on the occasion of the release of the book, said history needs to be written from the neutral viewpoint. Most history that we read today are written from a biased viewpoint, that glorifies someone and shows someone else in unfavourable light. He gave the example, that if Gilani in Kashmir is labelled as a terrorist, then why Khudiram is labelled as a freedom fighter and not a terrorist?
Journalist Ritwik Mukherjee supported the viewpoint of Aniket Chattopadhyay and said that neutral history is the requirement of the day, so that the representation of history is unbiased and uncoloured.
Social activist and author Sumitra Padmanabhan said the book Hamare Azadi ki Ladai highlights untold events of the history of our freedom struggle.
Pinaki Ghosh, the co-founder of Power Publishers stressed that the struggle for independence does not end with the freedom of India from British imperialism. It is a continuous process and should be continued even today, so that women are free to move around anytime of the day, without worrying about their security; so that people feel free and safe to travel to any part of India without worrying of getting lynched as child-lifters because they look different; so that people of a community feel free to live in another state without the fear of being driven out of the stage.
Ghosh also discussed how Power Publishers has always supported 1st time authors giving them the freedom to become published authors, and how his company always supported freelancer writers, illustrators and filmmakers to quit their jobs and do something on their own; something they love doing. He called on stage many such freelancers who have quit their jobs and have now achieved their financial freedom as writers, illustrators, and filmmakers.
The event was moderated by Anupriya Dutta, the General Manager of Power Publishers. The book Hamare Azadi ki Ladai is available from all leading online and offline bookstores.