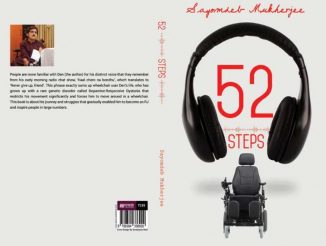 We all have a story to tell which are unique in their own way. However, one thing is common for everyone, that is the hurdles and challenges that life throws at us at various phases and these challenges are not same for everyone.
'52 Steps' by Sayomdeb Mukherjee is about his struggle in life as RJ Den, which will surely inspire many readers out there.
RJ Den's confined life in a wheel-chair has liberated him in several ways since he has been able to reach thousands of people through his popular radio programme, 'Haal Chhero Na Bondhu' (Never Give up Friend).
The real story of this RJ is very inspiring and motivating.
Life has not always been a bed of roses for him, he has been pricked by the thorns many times but he has never given up.
People often complain about so many things that they did not get in life and forget to appreciate what they already have.
The author has wonderfully projected his ups and downs, his fight with death and life, his parents and his career as a Radio Jockey.
When we flip a page of this book to read more about RJ Den, we get positive and find motivation to move on in life because no matter what, the show must go on.
Sayomdeb Mukherjee has beautifully described some of the major events in his life, which have been his turning points.
He has lost many things, including his father.
But God has bestowed his blessings on him too.
RJ Den has won many prestigious awards in the course of his career.
But the biggest award and achievement is that he could reach the hearts of so many listeners who would wait for his show to imbibe positive spirits from him words.
This short book has been divided into several sections, each describing an important event or day in the author's life.
'52 Steps' is a must-read for everyone because we all seek encouragement and motivation at some point of time in our lives.