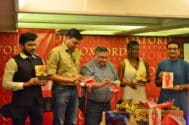 Books – one of the most fascinating five letter weapons that have managed to changed the world for the better. Yes, it is indeed remarkable to note how books hold their relevance even in the era of a highly digitalized world. Naturally, the enthusiasm to get one's thoughts out in the world and find minds that would appreciate it, has increased over the years. Credit goes to the platforms of self-publishing that have opened up in countries like India. But, as we all know and understand, good promotional skills and establishment of planned social communication networks are the two most important ways to not just make your presence felt, but also create the right buzz for your target readers to sit up and take interest. Frankly, that is not too difficult if you are looking at the right place. If you are looking at organizing a book launch event!
Don't let anyone tell you how far you should go to turn your dreams to reality. Book launch events are no more far-fetched and 'out-of-my-limits' promotional campaigns. Before we give you a detailed idea of the pocket pinch there is, it is important to get educated of what a fancy book launch event really covers. For starters, it does not have to be something too over the brim to fit within your palette. It can be small, attractive and yet have effective arrangement that drives attention to your creative work and your visions, more than anything else. If you are a first time author and you are really proud of all the months of hard work, drafting, collaboration and editing that has gone into the work of publishing your book, your need a launching pad. Where? How? Power Publishers has got an exclusive book release event package designed for the word worshipper that you are.

Before you go 'Whoa!' we would like you to know that this leading self-publishing organization in India, has organized tons of book release events from the time of its inception until recent. With illustrious names in the literature, media and business worlds coming together on a glorious afternoon to celebrate the success called your book, you cannot ask for a better 'word-of-mouth' impact than this. Power Publishers arranges for everything from the perfect venue to chief guests, event hosts, guest speakers, photographers, media coverage, musical entertainments, gifts and refreshments. In case you have any additional or special requirements, you can get your wish list ticked off by simply having a talk with the organizers. To know more about the book launch event organizer that Power Publishers is,
browse through our facebook posts and or get in touch with us.