Exact Lookalike
By Pinaki Ghosh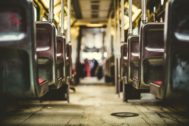 Some people believe that every one of us have our exact lookalike living somewhere on earth and at least once in our lifetime we are likely to come face to face with our exact lookalike. People looking exactly alike are termed as doppelgangers. Being a non-believer, I laugh at stories like these.
However, I met my doppelganger, or exact lookalike not once, but twice.
First time I saw him was in 2009. In those days I had quit my job and was struggling to make an earning out of writing, and trying to silence the mouths that criticized me for my decision to quit my job. I had come to meet a client who, after having circumnavigated earth in 69 days, wanted my professional help to write his biography. Biography notes taking sessions are usually boring and dull. After such a 6 hours boring session, I considered lucky to get the last subway train from Park Street. The last train looked empty and I considered myself even luckier to get a seat.
It was then that I looked up and saw him sitting exactly opposite me, looking straight at me. He was taken aback as much as I was. He looked a few years older than me, with a beard and moustache (I am clean shaved), but looked like my mirror image. Our attires were different. I was in a black tee, denim and a red cap and he was in a black suit and white shirt, looking rather formal. He had a frown, looking at me. I do not remember how long we had been looking at each other. Maybe two stations crossed, before I did something unusually smart. I took out my phone (rather crude stuff compared to phones of today) and clicked his picture. After the train crossed Shyambazar, a large and noisy group of members of a political party, probably returning from a political meeting, filled up the compartment and I could see him no more.
I thought of him for days, weeks, months and never got a satisfactory explanation to myself why we would look so much similar. He was as if my twin brother, though he certainly looked slightly older. I had even blown up the photo I had clicked and observed minute details of him. For example, the phone he was carrying had a logo showing OPPO. I had Googled the name of the phone brand but it came up with no results. Aparently Google had no information about the brand.
Gradually as years passed, and I got busier with work, this memory started fading away. I thought less about this chance encounter with my doppelganger and after years, when this memory came back to me, I explained myself, I had probably fallen asleep in the last train and had a dream.
Seven years passed after this incident.
Year 2016. I had thrown my birthday party in The Park. I was a bit startled when my cousin Tua gifted me an Oppo phone. I thanked her profusely. Something flashed in my mind for a fleeting moment. After we stepped out of the hotel, my driver complained of pain in his stomach and left. I had no option but to leave my car in the parking of the hotel and take the last subway train back home.
It was then that I saw him the second time.
He sat exactly opposite me in the empty subway train, looking straight at me. He looked like my exact photocopy; only about several years younger… seven years younger, to be precise He did not have beard and moustache; unlike I have grown now. He was in a black tee, blue denim and red cap. I was in a white shirt and black suit. I realized I was having goosebumps. A scene I had seen seven years ago was replaying before me; only the positions of the two people have changed. I was in the opposite seat seven years ago; and he was in my position. Or, are we the same, only separated by seven years?