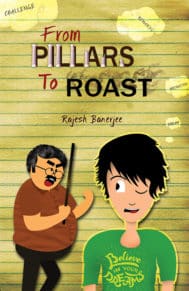 From PIllars to Roast by Rajesh Banerjee
Genre: Fiction, Pages: 164, Binding: Paperback, Language: English, ISBN: 978-93-84334-06-2
What tweaks our thought doesn't always turns out an invention, for example – A quick jump from a multistorey building or rescuing someone from a life threatening fire do not lead to a stardom. A well managed action with a thought process behind it creates wonders.
Starting from the year 2003- Ketan Dubey, originally from Jharkhand with an interest in doing business, bumps into a metro city with similar bent of mind. He counted his every action against some form of reward or stardom and in return, he loses out on-his father's principles, his love and friendship and his brief corporate stint where he had learnt why he can't do a job.
What he learnt on his way of his career is to slump inspite of an urge to succeed and start a business of his own. Despite being an above average guy his conscience goes for a toss.
This is a zesty story woven into love, hatred, friendship and corporate lessons. Enjoy with a cup of coffee and the 'Caffeine' in the story would keep you awake.