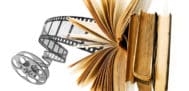 Let's face it. Book-reading and story-telling will never be a part of a forgotten era. The reason behind, is their deep-rooted existence in our cultures as well as our everyday lives.
We are all surrounded by stories, but only a handful of us might actually have the creative intellect to put these images and little happenings into slides and sequences and frame a short-story around them that will wreck one's senses and make him go, "Whoa! That just made my day!"
Do, you have such a story you desperately want to tell? Well, you can always write it and get it published. You may even have people reading it and taking about it for a length of time. But, would that satisfy the artist within you? Wouldn't you like your story to grow into peoples' consciousness, just the way it has grown into yours? If yes, then the best way to make your story live after you, is by getting a short film made out of it. Power Publishers with its team of artists, screenplay writers and experienced directors would help you get a short film done out of your story. Our exclusive story-to-film service has been carefully etched out, to give budding writers an edge over the others. Not only is it a valuable asset that you would be proud to talk about, but also an uber effective promotional tool that has the potential to make the maximum impact with minimum expenses. Besides, with YouTube and a dozen other such sites giving you the platform to reach out to millions of film and story lovers across the world, stardom is hovering just around the corner!
Flipping through social media networking sites and video sites on the web every day, you might have taken notice of the increasing number of short-films making their way into serious literary discussions, film magazines and Cannes film festivals. A few recent Indian short films released on YouTube include Ahalya by Sujoy Ghosh, Bypass by Amit Kumar, Migration by Mira Nair and Zoya Akhtar and Nayantara's Necklace by Jaydeep Sarkar. Not only have they been appreciated by critics, but have also made their way into every film-lover's personal collection. In fact, short film making in India has even managed to raise the quality bar for film industries based in India and abroad. So, if your story has the calibre, Power Publishers and its story to film service has the potential to turn into an audio-visual production that would be a treat for the eyes and a treasure house for the thinking mind.
So, make a short film in India today with Power Publishers and give you story the exposure it deserves.