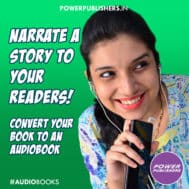 The reading scenario has gone through dramatic shifts and changes over the past decade. Through we can easily point out the number of new genres of writing that literary personalities all over the world have introduced over the years, we rarely take into account the ease of access of global art and literature that has happened due to consistent technological advancements. For example, your mobile phone, is not just a device to make calls or play games in. It can now be your walking-talking personal library. Read on to know more.
Art needs appreciators and vice-versa. Do, you think reading alone can help your readers appreciate the complete essence of your creative work? What if there are greater takers of your creative genius in people who can't read or do not like to read? This is where Power Publishers for the first-time brings around a breakthrough Art-meets-Technology service in India. Already a highly coveted and popular format internationally, audiobooks are the just the thing you have been looking for, as far as decent readership and better reach of your work, is concerned.
There is no doubt about the fact that audiobooks are the future of books.
For starters, they don't occupy a space in a reader's bag or have a weight that he/she needs to carry around. Just like the hundreds of necessity apps downloaded by us every day, all one has to do is download one such audiobook file, throw on a pair of headphones and embark upon a journey to not just know, but to consume the entire essence of a story in the most holistic way possible. Think it's too futuristic? You might just want to check out Scottish American character artist Alan Cumming's virtuoso narration of 'Macbeth' in the audiobook by the same name. It had got hearts racing world-wide with its release and helped improve the dramatic scope of the tragedy, centuries after the bard had put his pen down.
If you want to know what an audiobook can really do, you would need to get into talks with the first audiobook publisher of India – Power Publishers. It is a special service package offered by them at a price that might fit well within your budget. Professional voiceover and dubbing artists would be used to lend voices to your characters. Sound engineering, editing, mixing along with rental of specific equipments are all included within a single package. Besides, distribution of the DVD format audiobooks in various online stores like Amazon and Flipkart are also included within the package. Authors, who have taken the plunge till date, have only benefitted from this unique service. Not only have audiobooks shot up the sales figure of their physical books dramatically but have also garnered them the recognition that was long awaited!
So, give your book a living and breathing entity with the exclusive book to audiobook experience that has got story addicts from 18 to 80 excited!