A journey down memory lane | By Prof. Raj Kumar Watts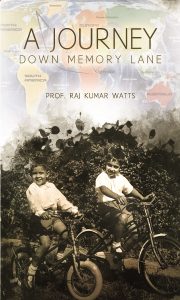 Price : Rs. 1300, Pages: 837, Genre : Biography, Language : English, Binding : Paperback, ISBN No. : 9789387852389

Click here to buy


At no stage of my life, I had ever dreamt or anticipated that I shall one day be prevailed upon by my sons Swastik and Vikram to leave behind some written record of my life so that the coming generations may know where the Watts family hails from. I had maintained no diaries or saved other records to write about my life and every thing I have written comes from memories entrenched in my mind; nature's own computer.