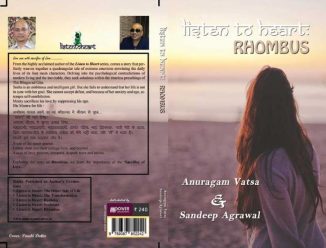 Congratulations on the release of 'Listen to Heart : Rhombus'. What is the feedback from your friends and readers who have already read your book.
It is a different type of book. It is very creative.
It is unique as the preaching of Bhagawad Gita is linked to day to day happenings. This book has a strong message for the society where the suicide rate is increasing.
What kind of books inspire you as a writer? Who are your favorite authors?
Earlier, as a kid. I enjoyed Hardy Boys and fiction.
Authors I used to follow was Sidney Sheldon, M. Goldratt, Shiv Khera, Franklin W Dixon, A Parthasarathy, Srila Prabhpada and others.
Now a days I like books which are very practical in life.
Bhagavad Gita is a book is a complete package.

Why did you want to become a writer? Who inspired you to become a writer? What triggered you to come into writing?

After going through Bhagavad Gita I understood that the preaching are directly linked to day to day happenings. So it is – A way of Life… To make it understand better I decided to write and prove myself. By this I could return something to the society.
What are you doing to let readers know about your book?
Through social media. Through my own website http://www.anuragamvatsa.in/
Tell me something about your book. Some highlights.
A love story.
It has four characters in the story as four sides. They lived their life on their own perception. They also had to adjust by accepting some bitter truth and sacrificing to some extent their egos to lead happy life.
Rhombus is a four sided but angle not fixed as rectangle and square. So one should be ready to stay within the boundaries and if required should adjust in life as a rhombus adjusts the angle to form the boundaries. Life is a cycle of Birth and Death, Old age and pain. One has to adjust to these four stages. Happiness, unhappiness, success and failure are the sides of boundaries of life after birth before death.
So stay unattached to the results of our karma or duty.
Tell me something about yourself and your background.
The author of this book was born as a soul of Vatsa (Vatsa Sage) in a Brahmin family in a village in Bihar Sharif in the district of Nalanda. This soul is tagged as Anuragam Vatsa in this changing world and was well known as 'Bihari' at school and college.
His father (Shri Digvijay Kumar Singh) is an Agriculturist and mother (Smt. Lakshmi Singh) is a home maker. He was brought up with his three sisters (Anjana, Arpana and Amita). He tied the knot with Pooja as his better half and was later blessed by the Lord with his best part 'Astitva'.
He started his basic education at his village. In the early age he started living with his Buaji. So they were taught to stay in a joint family and have respect and love for each other. He studied in St. Joseph Primary School, Patna. His parents wanted him to go through good education with high values, so he moved to 'Scindia School', Gwalior. After completing his schooling, he pursued for B.E. (Mechanical) from Bharati Vidyapeeth's College of Engineering, Pune University. He completed his Diploma in Export Management) and moved to complete his MDBA (Finance) from SIMS, Pune. He is a Gold Medalist in trekking (Dukes of Edinburgh' Expedition) and touched two glaciers Mandakani and Pindari.
He started his professional life with Gas Corporation of India Ltd., Patna. He is presently performing his karma to lead his life with RSB Group. He is a life member for 'Indian Institute of Materials Management' and 'Indian Institute of Welding'.
His parents ensured that during vacations he was at his village to understand the life from roots. His great, great, grandfather (Shri. Titan Pd. Singh) had got a temple (Radhe Krsn) built in the village by donating the best and major portion of his land property to temple. He believed that all was of Krsn who had made him just the care taker. The seed of Krsn's love was sowed right from childhood. This helped him in 'The Transformation' to understand 'The Other Side of Life', which is actually the real side of life but we have termed in other way round terming the real side of life as the other side of life and the other side of life as the real side of life. He became a life member of ISKCON, Patna.
After reading the Bhagavad Gita, he decided to write what he understood for better understanding. He got an instruction from his inner conscious to start his journey of learning, understanding and practicing for 'The Other Side of Life' by 'Listening to his Heart' and work towards 'The Transformation' and be happy as Your Happiness is your State. This way the journey of 'Listen to Heart: The Transformation' continues after taking a rest at the milestone where he learnt that Change Yourself Rather Changing Others while understanding 'Listen to Heart: The Other Side of Life'.
Do you plan to take it up as a full time profession if response is good?
May plan as writing is my passion and it motivates me