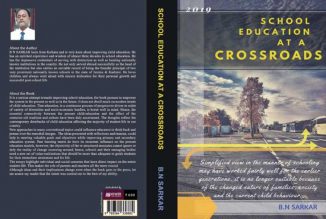 What is the feedback from your friends and readers who have already read your book.
The name of my book is 'School Education At A Crossroads: A Collection Of Essays'. My friends feel that the initiative undertaken is in the right direction as it reveals genuine concerns to improve school education; for them, the book does not appear to be written by one endeavoring to write for the first time; the essays, they opine are quite introspective, reflecting a matured mind with sound experience in the field of school education.
What kind of books inspired you as a writer? Who are your favourite authors?
Non-fictions that stimulate one with social concerns and generate a different type of awareness about the nature and cause of social existence, provide pragmatic wisdom excite meal ways to go for them.
Specifically, in my schooldays, it was Khushwant Singh who inspired me to observe the real world around and describe it with exactness of details while in later days, it was Bertrand Russell who influenced me to develop my thinking and interpreting skills and my style of expression.
Moreover, there are several international and national writers whose ways of looking and interpreting social situations have impressed my style of writing the current non-fiction on school education.
Why did you want to become a writer? Who inspired you to become a writer? What triggered you to come into writing?
There is always an inner urge in me to express myself on issues that genuinely bother the society, in particular, the common man. I have been writing and expressing my ideas since my schooldays.
With years of growth of wisdom and matured consciousness while working in the field of school education for more than three decades, I have genuinely felt that there are certain serious issues pertaining to school life of the child and the school system which have been either ignored or not adequately addressed and these difficulties as hurdles are growing with time and weakening the base of the pyramid.
I am committed to pen them, with an aim to improve and bring change in the system while drawing the serious attention of the school authority and the state or central administration for crucial change in the form of remedial measures.
Prior to this, I have drawn serious attention of school authorities and various school boards with my critical narratives on child education.
These have impressed my readers both in India and abroad. The general appreciation of my readers and my concern for the current plight of school students influenced me to go ahead with a more intense mission to produce a collection of essays on school education.
I believe the effort is going to create a substantial impact in all segments of society worried and
deeply concerned about school education.
4. What are you doing to let readers know about your book?
I know the potential of Power Publishers, confident about their marketing ability and have firm belief that the team management would ensure the book gets fair publicity to attract concerned readers.
Being in the field of school education for last thirty years, I believe, I will be able to draw the right attention of worthy readers keenly interested about improving school education across the country.
This would obviously require the spread of crucial concerns related to the book through various means of communication and smooth transfer of issues worrying people about the system, while highlighting the said contents as excerpts from the book.
Moreover, the essays portray real issues bothering parents, teachers, young and old; these are extremely sensitive and have become genuine social concerns, the issues that cannot remain ignored by readers for long.
Tell me something about your book. Some highlights.
The book mirrors the present school-life reality; provides a comparative analysis of the declination of standards of traditional education with the emerging modern trends influencing post-globalised world.
It details about the colonial culture of British education eclipsing the Indian community life and distancing the rural world, right from pre-independent days. It shares critical concerns about how the present social trends are making the current education almost irrelevant while tabling painful education-scenario affecting the rural pupils and also reveals an internal desire of Indianizing school education.
In various ways, the essays bring forth the present plight of Indian school education; that, could neither become a comprehensive system no rad here to remain life worthy learning process. Mostly the system almost functions still as apart of British legacy and has failed to influence positively the growing social change adversely affecting student life.
The book emphasises that school education has to manifest all at tributes of coexistence and equality; accept and appreciate religious and cultural diversities while honestly focusing upon rural empowerment of the young. Some of the essays point out about the students need of new confidence to grow with an independent thinking mind for'parrot-learning'-no longer can create able citizens. Even the impact of technology-aided learning can bring in stimulus excitement in the school environment but it cannot surpass the permanent influence of real life on pupil's mind.
A developing nation with a lion's share of poor and unemployed population need altogether a different form at of school education. I have revisited almost all essential tenets of school education and delved deep revealing different angles of change immediately desired in them to improve the system.
There are other essays that concentrate upon students fundamental need and right to education and these link with citizenship, welfare concept, the necessity of secular culture and the need for education of the girl child.
Finally, the last essay has altogether a different scenario of concern about the requirement of proper school education in Kashmir, under present conditions. This is quietly insightful in approach.
Tell me something about yourself and your background.
I am in the field of school education for the last three decades; I have always had a deep bond with my students, understood their difficulties and their nature of hesitation while I headed several well known institutions in the country and abroad. I have experienced how student-life has become extremely complex; the issues that bother the young learners hinder their advancement in academic world.
I took up the task of writing these essays with a firm belief that someone in tensely experienced in the said field should endeavor to project the real picture of the present plight of school education that require immediate remedial plan sand procedural measures for real improvement.
Do you plan to take it up as a full time profession if response is good?
I do plan to take up writing as a full time profession irrespective of the response I receive from my readers about the book. I have already one more project almost ready for publication.