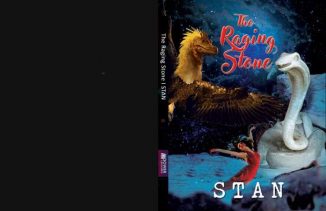 Congratulations on the release of 'The Raging Stone'. What is the feedback from your friends and readers who have already read your book?
Thank you. My friends and family have been extremely supportive of my initiative. Disseminated the acquired knowledge to others. To effectively do this, they advised me to write novels in which hidden moral lessons would be easily grasped by the readers. I hope my readers have been able to relate and enjoy my work.
What kind of books inspire you as a writer? Who are your favourite authors?
I love writing stories that deal with social issues with moral ethics destined to help improve a person in this modern era.
My favourite author was Kushwaha Kant, whose books I bought and read at home during my younger days back in the Fiji Islands.
Why did you want to become a writer? Who inspired you to become a writer? What triggered you to come into writing?
I have been a keen reader of novels whether they are in English or Hindi. In fact, novels dealing with mysteries and suspense have been my favorite. I never expected that one day I would start writing novels myself. My mother would always encourage me to write novels in which hidden moral lessons would be easily grasped by the readers. But one thing was certain that I wanted to start writing the novel in Hindi. However, because of writing constraints and not receiving effective support from Microsoft Word, I had no choice but to resort to writing the novel in English.
What are you doing to let readers know about your book?
I intend to use three separate social media sites to further publicise my novels. Radio and Television are other options I am currently weighing.
Although publishing novels appear to be a costly exercise according to me, I still want to push my writing as far as practicable.
Tell me something about your book. Some highlights.
This novel is a fictional story based entirely on an Island in the South Pacific where some centuries back snakes and birds were in abundance and often fought. A woman disguised as a witch manages to whip the emotions of the birds to create devastation on the Island. The said Island is full of untapped minerals and has the potential of emanating millions of dollars of natural resources. The witch backed by some foreign sources creates terror to get rid of the Islanders who are great followers of the Snake God. The birds are so large and deadly that they can easily lift an elephant in their claws. The vultures pluck peoples head and devour them. Hundreds of people become prey to these buzzards who have extraordinary powers and who often secreted venom before killing. The Islanders run for their lives and seek refuge with the Snake God who sits in the form of a large stone overlooking the Island. Do the snakes come to their salvation? Is the island overpowered by foreigners? What happens to the Islanders? Are they all massacred? For these questions one has to read this powerful and exciting novel "The Raging Stone"
Tell me something about yourself and your background.
I hail from the Fiji Islands, a group of 300 Islands in the South Pacific. I have acquired my academic qualifications from Fiji, Singapore and Great Britain. Stan is my poetic name given to me by my close Western colleagues
I have been writing mainly for magazines, newspapers and social media and this is my second novel, the first being "Tears of a Father" which was released in North America earlier.
Do you plan to take it up as a full time profession if response is good?
Yes surely.