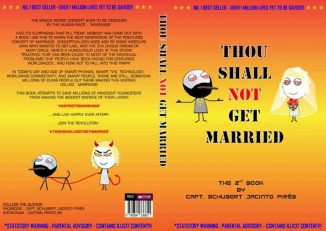 Congratulations on the release of 'Thou Shall not get married'. What is the feedback from your friends and readers who have already read your book.
The book is a hilarious book and my single friends who have read it, totally love it…however, all my married friends are somewhat furious at not having come across a book like this before they got married!
What kind of books inspire you as a writer? Who are your favorite authors?
Humour has always inspired me as a writer, but as a reader I've always been into suspense, thrillers or murder and mystery…and at the other end of the spectrum…I've always enjoyed comic books, especially Asterix and Obelix, Tintin and MAD comics.
Why did you want to become a writer? Who inspired you to become a writer? What triggered you to come into writing?
For years, I've been into writing short stories and funny fictional tales involving my friends — just for our own entertainment back in the days before Smart Phones. So a lot of people pointed out that I have a talent for writing and entertaining others and I should consider writing a book someday…so well, here I am.
What are you doing to let readers know about your book?
I've been throwing a lot of wild book launch parties in Goa to promote these books. And the parties have been crazy. The pics of the same uploaded on social media is making more and more people want to get their hands on this book.
Tell me something about your book. Some highlights.
This book "Thou Shall Not Get Married" is a humorous look at what happens after marriage. Something that nobody tells the youngsters before they go in for it and then they're left in a shock. So this book throws light onto what to expect after getting married. So that the Next Generation can wisen up and take informed decisions on how to go about with their lives. Someday a lot of them will be thanking me for this book.
Tell us something about yourself and your background.
I'm a Ship Captain by profession and navigation has always been my passion. A traveller not just on the job but on vacations as well. I'm a thrill seeker who lives an adventurous life and loves travelling to new places and countries. Being tied down to one location or one woman or a predictable married lifestyle is what is totally contrary to my lifestyle. And the benefits of this kind of lifestyle is what I have highlighted in this book.
Do you plan to take it up as a full time profession if response is good?
Writing for me is a hobby and more than writing to entertain my readers. I write to amuse myself in my spare time. Hence I intend to keep on writing as and when the inspiration hits me on various random, funny and entertaining topics.