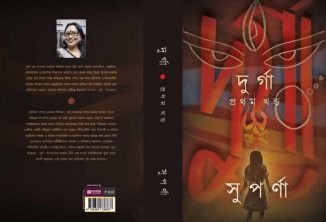 What is the feedback from your friends and readers?
The people who read 'Durga' (the first volume) said that the Durga increased their mental strength. They feel she is the daughter of their house. Durga is the living documentary of life, mind, desire and suffering of women. Basically, on my wish and request from my readers, I first thought of publishing it in book form.
What kind of books inspire you as a writer? Who are your favorite writers?
Psychological novels. My favorite authors: Manik Bandyopadhyay, Santosh Kumar Ghosh, Atin Bandyopadhyay, Premankur Atheri, Joy Goswami and Bani Basu.
Why did you want to become a writer? Who inspires you to become a writer? What's the problem?
I did not want actively to be a writer. But writing spontaneously turned me into a writer. This is the feeling of a pure suffering, which has taken shape in the form of words.
No special person has inspired me to write. Rather, this thought has inspired me that the life-sustaining experiences that I have enriched me should be left somewhere for the next generation of women, so that someone can find answers to their own life-questions in this novel.
What are you doing to let readers know about your book?
Nothing special. I believe, if it is honest literature, then the reader will find it … today or tomorrow. I just posted the pictures of cover design on my Facebook wall and on my own page, where I first wrote Durga and received huge response.
Tell me something about your book. Some highlights.
'Durga' is not a story of a goddess; it is the story of the transition of a baby girl. Her psychology, material life, the art of her life, which has shadowed many women's happiness and sorrow, success-failure, love and love-breaking pain.
How to make changes in circumstances outside the control of the people, how to overcome it, a girl learns to make her pain in her compositions from adolescence, how the world snatches away from her hands, and after completing all her work after reaching the end of her life she takes up the pen as a tool. By doing so, one is struggling with a singular struggle. The novel is a continuous articulation that will be completed in four episodes. Durga is a symbol of women power here.
Tell me something about yourself and your background.
I was born in a simple but educated and close-knit middle-class family in Calcutta. I identified myself as a well-taught, self-reliant, well-liked humanist personality. Being a teacher, I had a long-standing communication with teen girls. This is my real identity. Promotion of my life by promoting the spirit of self-respect and education among teen girls through teaching.
Do you plan to take a full time profession if response is good?
Writing is my passion, my own resource. And teaching is my career, my place of love. Both are necessary in my life. I want to maintain these two sides in parallel. So at least I have no plans for an early retirement from my career.