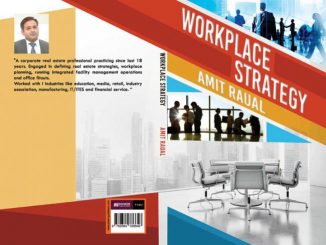 Workplace plays a vital role in any organisation or institution and keeping a healthy environment is of utmost importance.
Hence, several strategies need to be maintained by the employers to give the employees some benefits and a suitable place to work so that they can get the best out of them.
In his book 'Workplace Strategy', Amit Raual has provided the readers with minute details about everything they need to know about workplace to get successful results.
Divided into nine chapters the book explains the meaning of workplace strategy, its background, the effective management, tools and the future of workplace.
The author has answered every probable question that may arise in the minds of employers and the head of any organisation.

With the changing environment, needs and demands, the workplace must also change so that the outcome is most favourable, and the organisation can stand out from the rest of the workplaces.
Employees spend most of their time at the workplace, hence they definitely deserve certain allowances and a healthy environment with a good pay scale.
When an individual thinks of owning an organisation, he or she must plan it very strategically and carefully to make a good position in the job market.
They can either hire people meant for this job or they can plan themselves and come out with something extraordinary that will attract employees from various parts.
The author has given many real-life instances to make his point clear to the readers so that the latter has a crystal-clear picture of all the valid points in his mind.
Amit Raual has chosen simple yet powerful words to write this book so that it is easy for everyone to understand and create an impact as well.
The chapter divisions will help the readers to find what topic they are exactly looking for and can read them accordingly.
Every aspect discussed in this book has been supported with an example which makes it a lot easier to understand and apply it in reality.
In every workplace, the relationship between employers and employees holds a lot of importance and it can either make or break an organisation.
This angle of workplace strategy has been explained and discussed minutely and elaborately in 'Workplace Strategy'.
The title of the book has been kept quite simple, yet it says everything about the content.
This is a must-read for those who are planning to open and own an organisation and also for those who already have it and work there.