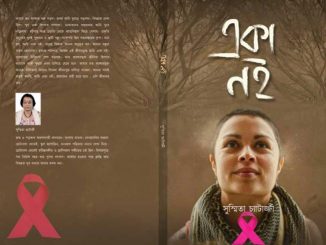 Often, dangers in life dawn on us suddenly but should we succumb to them or find a way to fight them?
Get the answer in Suhsmita Chatterjee's book 'Eka Noi'.
Chatterjee writes in Bengali. The title when translated reads 'I am not alone'.
A breast cancer survivor, Chatterjee who has taken the initiative to motivate and give positive vibes to those who are suffering from cancer or have successfully overcome it.
It talks about strength and optimism to prepare one's mind and also the minds of his or her dear ones.
Susmita Chatterjee has bravely fought throughout her treatment and has shared her experience in this book.
Consisting of 15 chapters, this book can provide immense positivity and strength to all the sufferers because it is important to keep oneself stable during this period.
Cancer is not synonymous with death. It can be cured, and one can lead a healthy life after that.
One has to go through several stages of chemotherapy in order to get cured.
However, only chemotherapy is not the solution since it needs a lot of patience and support from others as well.
They should be encouraged and reminded that they are strong and brave, and they can do it with ease.
Cancer leads to many health issues. There is lot of hair fall due to chemotherapy.
However, if the patient is constantly embraced by his or her family and near ones, both emotionally and physically, the former will feel more comfortable and energetic.
Everything that needs to be followed during cancer has been mentioned by the author very systematically and she has used very positive and encouraging words to frame her novel and to suit the purpose behind writing it.
I would like to thank Susmita Chatterjee for writing this amazing book which will be of great help for all the patients as well as survivors.
She has conveyed a very useful message through her book that we are not alone while suffering and fighting with this disease which has taken away so many lives.
The author has been successful in returning to normal life with support from family and friends.