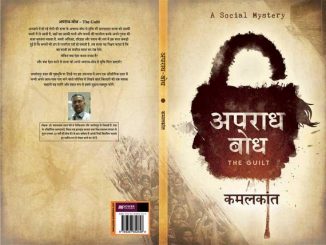 Kamal Kant Lal, in his Hindi novel Aparadh Bodh, has explored the feeling of guilt, and how an individual's actions and feelings can affect others.
The book commences and ends with this "aparadh bodh" or guilt.
The story revolves around protagonist Satya and his guilt feeling due to his actions, though the entire novel is not only about him but also about other characters like Sanjay, Gopi, and his family.

Kamal Kant Lal has divided the chapters very carefully so that each chapter offers a new angle to the story without breaking the flow of the plot.
It revolves around the guilt of Satya for killing a rustic drunkard by accident and the guilt feeling increases when he witnesses that the dead man's children and wife are suffering a lot due to his death.
The plot has interesting twists and turns which increase the intensity and suspense of the novel.
A character like Satya is much-needed in our society who can eradicate the evils and negativity of the surrounding and induce a positive change.
In life, each one of us face some situation where we feel guilty of our deeds.
However, only a few can express it and do something to change it.
The readers need to read the entire story to find out whether they agree to it or not.
It is a must-read for all since it has a great message underneath which everyone must know for their benefit and the society's benefit at large.