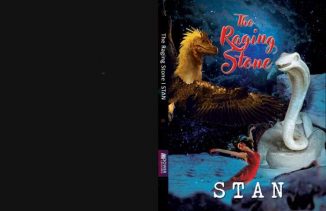 How many of you believe in miracles, magic and in things that are beyond our imagination?
'The Raging Stone' by Stan is an amalgamation of miraculous events and realistic problems of life which many people have to endure.
Stan has successfully painted beautiful images with words from the beginning of the story and the readers can visualise them quite easily.
The story revolves around Ted and Archal, who lead a very difficult life after their mother meets with an accident and is left in the nursing hospital by their father, who remarries later.
This problematic scenario runs parallel with the description of a mysterious stone that looks like the head of a snake and everyone worships it since several stories are attached to this Snake Head Rock in the Butoka Island.
Both the situations are finely enmeshed by the author to give the readers a book that they will not forget easily.
The story opens with a picturesque description of the seashore that is a treat for the imaginative readers.
The words are appropriately chosen and aligned in such a manner that is bound to impress everyone.
There is a large section devoted to Ted and Archal and how they overcome every situation with their courage, wit and endurance.
The tortures of their step-mother and step-sister sometimes reaches the zenith and even the readers will feel sympathetic towards the victims of such a heinous crime.
Amidst all these, Ted meets a lady who works in the hospital where his mother is admitted, and she arrives like a gush of fresh wind in Ted's life.
However, the author is successful in holding the mystery of their step-mother and a room in their house where they are not allowed to enter.
One day the truth is unraveled by Ted in his step-mother's absence and the readers must find out about this incident from the book to enjoy all the elements of mystery and eeriness.
Several incidents follow and the ending is quite apt.