Book Review of  Gita for professionals by Anil Bhalla in IBNS (India Blooms News Service)
Gita for Professionals, a self-help style book written by Dr Anil Bhalla and published by Power Publishers, is a book that caught my attention recently.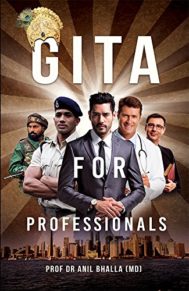 In this book the author tries to explain the concepts of Bhagwat Gita in a very simplified way.
The author expects his explanations to be assimilated by professionals, young and old, in their everyday lives.
As a young woman who is just embarking on her career, who is learning the ropes of her trade, I find this subject and its treatment fascinating.
Gita has all the ingredients for becoming the guide for any human being.
But what with our rigorous schedules it isn't always possible to go through that tome on a regular basis.
So I feel a ready-reckoner like this is just the need of the hour for people like us.
In each chapter of the Gita, Sri Krishna has elaborated on specific topics.
Dr Bhalla too has adopted this approach in the book.
I found the discussion on Karma Yoga to be very emphatic and timely.
Sri Krishna says it is our duty to execute our responsibilities without getting too attached to smaller goals. We should set our sight on the bigger picture, on our ultimate aim and work steadily towards it, without getting too affected by either smaller achievements or smaller deterrents.
I feel this concept is applicable for all stages of life, and not just for one's career.
Another point that the author has highlighted in the book is the importance of health.
People can get so involved with their work, their responsibilities that they  often tend to overlook their own physical well being but as the author has rightly pointed out, our bodies are the drivers of our souls.
If we don't have a fit body, how can we enjoy the fruits of our hard work?
Another lesson that is worth remembering is the importance of paying heed to our inner voice.
Our inner voice is the representative of our values and our morals. When some external factors start to contradict our values, that is when the conflict comes into play.
But as Sri Krishna told Arjuna, all individuals come to the earth with a specific role, with a specific responsibility.
During conflicting situations, we should keep that role in mind and then listen to what our values tell us.
Giving an outlet to our inner voice is the secret to success as an individual; it is the way to contentment and satisfaction.
The other lesson that I would like to keep in mind is that little knowledge leads to arrogance and arrogance leads to mistakes.
So it is important to amass as much knowledge as possible and then use that knowledge for the betterment of the society as a whole.
As our lives get overtaken by our work, we tend to lose sight of who we really are as individuals.
And I feel a book like this can guide us back to our original selves and help us become better versions of ourselves.
Reviewed by Priya Das