It is the rebellious streak in him that compelled him to write My Guru Girls, says author Saket Chattopadhyay about his latest novel.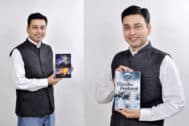 My Guru Girls' is a completely different genre. What made you write this erotic novel?
Creativity is probably the only protocol that cannot be automated. The story flashed in my mind during a dream. The next morning I started writing the novel on my cellular phone. I finished writing the entire manuscript within 30 days. So, coming back to your question, I really did not intend to write an erotica. It is, as if, that the main protagonist of the story, Nandu Joseph, wanted me to remove the curtains from his personal life and tell it to the world. Almost all brilliant young guys suffer from a mild form of restlessness. That restlessness, I think, is the key to overcome all obstacles coming their way. That restlessness has both positive and negative sides to it. I have touched upon those aspects as honestly as possible. A few funny incidents in the story are inspired from my college days.
I wanted to write something without inhibitions, without hypocrisy. I hate to hide the truth from anyone. Perhaps that rebellious nature inside me found a vent through this writing process. What came out as a product might be called an erotica, but my intention was to give a realistic picture of a passionate young man. Nandu Joseph, is a complex character. He loves his best friends Ana, Ramona and Dew but at the same time he wishes to achieve dizzying heights of success. Then, his raging hormones have an enslaving effect on him. All this needed a realistic description. I believe that the readers will appreciate my honesty.
Your previous book 'Transfer Protocol'  was very popular among the audience. So, what do you think about the popularity of  your newly launched book, which is completely different from  your previous book?
Yes, 'The Transfer Protocol: A scientist's search for truth' is a science fiction thriller. I wanted to tell the whole world that science and religion are just two sides of the same coin. Human brain is an enigma even to the best researchers. I based my plot around that theme, the powers and possibilities of the human mind. There is action, thrills, chases and deep philosophy described in the novel. What makes me happy is that I have got good reviews for the novel from everywhere around the globe. The novel is doing well in the US and Europe.
'My Guru Girls' is a different story. It is all about passion, desire and dreams. As I explained earlier, my inner self compelled me to write this story. I had to write it! If you read, even the first chapter of this novel, you will realize the intensity of Nandu Joseph's emotions. The story is now a part of me. Whenever someone reads it, subconsciously, I will be with them for that short time period. Isn't that a great feeling?  This book should entertain the readers and inspire them to achieve more in their lives. The book is getting good reviews on various social networking sites.
Who is your inspiration as an author?
That's a tough one! It might sound strange but my likes keep changing according to the weather conditions. During summers I like books written by Michio Kaku, Stephen Hawking and Neil Degrasse Tyson. Winters are reserved for books by Michael Crichton, Paulo Coelho, George Orwell, Ursula K. Le Guin. I like the unpublished poems written by my father as well.
Now that your book is available on all  websites, what do you think? Will it acquire the bestseller title?
It is a special feeling! Words cannot explain it. Your question made me recall a saying, which goes something like this, 'Never talk about the labor pains, just show the world your beautiful baby'. So my publishers and I have done our best to bring to the readers a complete entertainment package. Yes, I want the book to become a bestseller. I have put my sweat, tears and some amount of blood to finish this novel. The blood was involuntarily donated to the mischievous mosquitoes as I finished writing the novel. This book is straight from my heart and it should touch all those who love and care for their friends.
What is your favorite genre?
Any novel that is written straight from heart without censorship. Such books have a magnetic pull. That is the only way truth can propagate. Human race cannot survive another 1000 years without developing the good habit of speaking the truth. I like novels that inspire and force the readers to think. Is that a new genre!
If  you get a chance, will you try your hand in writing a Bengali novel?
Yes! I can read and write in Bengali at a professional level. I attended a school in Delhi where Bengali was a compulsory subject. I love the writings of Sharadindu Bandyopadhyay. May be I will write a Bengali crime thriller in the coming months!