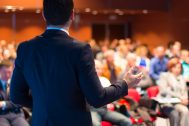 'Reaching limitless trainees' is a milestone that every trainer seeks to achieve. It is merely impossible to do so only by training a countable number of attendants in a classroom. Training in a classroom, confines the popularity and knowledge of the trainer.
In order to defy the boundaries, a trainer should write a book. Writing a book is a fundamental task that every trainer must resort to. Let us know how writing a book can boost a trainer's career.
Reaching endless trainees: Every trainer gains popularity when he/she gets connected to the maximum number of trainees around the world. Writing a book is the most effective tool to do so, in a short span of time.
Gaining popularity: Without fame and popularity, no trainer can taste success. As a matter of fact, by reaching numerous people surely helps to bring popularity and fame to a trainer.
Higher pays: Writing a book has brought success to many trainers across the world. Especially for modern trainers, it plays a magic to boost their careers. Writing a book establishes one as an expert of the subject, and as such, one can raise his/her professional rate.
Complete expression: In a classroom where time is limited, trainers may fail to complete their lectures or demonstrations. This can lead to morale breakdown of many. Trainers can explain techniques better through a book where time does not limit the dissemination of knowledge. A book can go into greater details than a 1:30 hour training session. So, trainees of a training session can be advised to buy the book for greater details.
Additional revenue: The book can be sold to trainees of each training session. That is an additional revenue for the trainer.
Structured record: Although it is possible to keep video records of live training sessions nowadays, but a book makes it more presentable and sequentially structured.
Most trainers commence to write a book of their own but fail to finish it. They may be too busy to write a book, or do not possess the skill to write a book. There is a solution for them. A good professional book ghostwriter can write on behalf of them.
Power Publishers has with them some of the best professional ghostwriters of the world to help you put your training techniques on papers, the way you want. It is an ISO 9001:2015 certified company having a proud history of over 12 years. Ghostwriting is one of the most bestselling services among all the professional writing services provided by the company.
You do not need to take out time of your busy schedule to write a book. All you can do is to hire a professional book ghostwriter and share the outline or table of contents and your training videos. You may also get your book published, promoted and distributed under the same brand name.
Click here to view details about ghostwriting service.
For premium range of ghostwriting, of bestseller quality you can try www.pinakighosh.com.