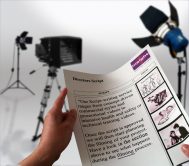 You have a great story in mind and someday you want to see it splashed across the big screen yet the only problem is that you don not know how to write it in a screenplay format.  Screenwriters in India can just daunt in a blank paper and breathe life in it. Great script emerges from skilled writers. A right screenplay writer is a founder of a storyline, creator of dialogues and a sculptor of characters. Here are the 7 things to keep in mind when you hire professional screenwriters in India:
1.Hire an experienced writer:
Scripts are written in a certain way. A good and experienced writer can always make things easier for you. Screenwriters in Bollywood are experienced and give more focus on the content. His writing should have clarity and would be visually appealing to the readers. A good and experienced writer would be versatile whether you are hiring him to write a thriller, comedy or romance. He would perfectly know the mechanisms, sentence formations and usages. He would think and create in a way that no one can.
2.Hire a movie lover:
We all know that scripts are the best part of the movies. Only a good script can create good movies. The writer should able to create his dreams into reality. He should visually active with actions, scenes, dialogues and the characters. While writing a script he needs to be a good observer.
3.Hire a good narrator:
A script writer should able to breathe and live with the stories. Stories are the essence of any script. A scriptwriter should able to create stories that are engaging and interesting at the same time. The love for the stories should trigger him to create a plot which is just best for you. A writer should have the capability to narrate a story which is fast and clear. The creation of the characters should be believable and the plot should have twists and turns as to seek the interests of the readers.
4.Hire an organized day dreamer:
We all know that a scriptwriter should be a dreamer. But what is an organized day dreamer? A person who can turn the dreams into actions and create a whole new world for the readers and seek their attention to read more of the script. The writing should be fresh and engaging so that it turns his ideas into a methodical script.
5.Hire a person who is good with multiple styles:
A writer should be versatile and capability of doing various styles. He needs to analyse various view points of characters in one story. He should have a desire to experiment with his characters as according to the requirements of the script.
6.Hire a creator:
A writer should have a good command over the language. Having a good grammar and able to express your ideas and views to the readers through your writing is a plus point. Writers should have the potential to write visually and paint pictures with his words. His language should be well versed and have clarity to the readers.
7.Hire a person who can understand the plot:
A writer should understand the plot of a story and go with the flow. His plots can have twists and turns as according to requirements. It should have all the visual elements to make it engaging and suit the interests of the readers. His visual elements should have perfect usage of plots and dialogues.
Wrapping up
A professional writer would always have proven experience and expertise. You can have a story in mind but can fail while giving it a shape of a successful screenplay. For this reason, you need a professional screenwriter who can do the brainstorming for you. When it comes to screenplay writing, Power Publishers tops the list for the best screenwriter for hire. All you need to do is to share the outline/ logline of your script and we can turn into screenplay of 100-120 pages.
Click here to check screenplay writer hire service 
For premium screenplay writing service, click here.