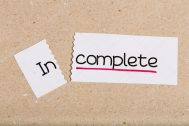 Having a spectacular story in mind and then telling it to the world is a dream of many. But the journey from plotting a story to putting it on papers is filled with numerous challenges.
As a result, many great stories fail to finish their journey; stories which would have been bestsellers had they been published in form of a novel. The most common challenges that novelist face before publishing their work are due to:
Professional distractions: Most of the new authors come from different professions like doctor, IT professional, army or student. They start writing out of passion, out of impulse or to evade stress. But with time, they lose the enthusiasm with which they had started. Sometimes, it becomes hard to have free time to write without affecting their primary profession.
Unplanned events: Any random event like examination, new job, pressure of work, home shifting, illness, social challenges and so on. Such events are inevitable and also important at the same time. In such cases, your work remains unfinished unless you have a novel ghostwriter to take care of your writing. So that you get to do other important works.
Not sure how to write: You may have an excellent story in mind but cannot write with the proper usage of vocabulary or grammar. New authors even face challenges related to proper sequencing of events in their novels. A novel ghostwriter not only completes your story but also use appropriate words with precise usage of grammar.
Not sure how to end: Sometimes, new authors start a novel with a great beginning but fail to give it a good ending. Only because of this, either their work remains incomplete or ends with an abrupt ending. In order to make your novel popular, you need to deliver a pleasing climax. An appropriate climax not only makes your current book sellable but also opens a gateway for your next novel.
Any such hindrance can make your story pause or even stop. As a result, you lose a huge opportunity to become a successful author. In order to eradicate such problems, Power Publishers provide the best ghostwriters for you. Most of the well-known authors of today had hired a book ghost writer, at some point in their career, before they became popular.
Give your work, the recognition and popularity that it deserves by completing it. Let the professional ghostwriters in Power Publishers do the writing for you so that you can carry on with other important works.
Click here to view details about ghostwriting service.
For premium range of ghostwriting, of bestseller quality you can try www.pinakighosh.com.