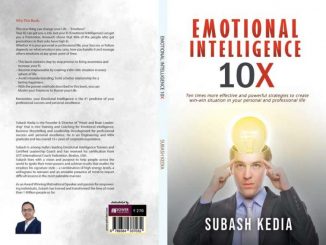 What is Emotional Intelligence (EI)? Are we intelligent enough…emotionally? How can we survive and conquer life with emotional intelligence? Are emotional quotient (EQ) and EI the same?
'Emotional Intelligence 10x' by Subash Kedia will answer all these questions.
We all want to succeed in life and also in our career — which we have chosen for ourselves but without proper strategy and behaviour — but is this possible at all?
All of us go through an emotional rollercoaster through the day but showcasing our true emotions every time is not appropriate.
Here we have be emotionally intelligent so that there is a win-win situation in our personal as well as professional lives.
Each day exposes us to new experiences, and these are vital to grow and succeed in life.
Workplaces challenge us every day and during these times, the employees need to be balanced, calm with high EQ to win and be satisfied.
Divided into 14 chapters, this book covers all the important areas which must be known by everyone.
It talks about emotional intelligence, self-awareness, self-acceptance, self-management, interpersonal relationships and EQ and EI.
It is very important to know the self in order to master over the other, hence a major portion of the book focuses on self.
Logic and emotion need to balance and this can only be created if one can control and channelize one's emotions with intelligence.
There are plenty of books in the market dealing with the same topic but in a different way.
Subash Kedia has specifically kept in mind the reader's perspectives, their hardships and problems so that they can benefit the most.
Also, this book is quite engaging and interesting to read due to its simple and lucid language.