Unfinished – A Woman's Tryst with Destiny by Kay S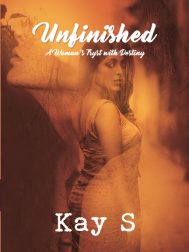 Price : Rs. 265, Pages: 140, Genre : Fiction, Language : English, Binding : Paperback, ISBN No. : 9789384336660

Click here to buy

A Woman's Tryst with Destiny, Kay tells the story of Anusha, a fiercely independent young woman who refuses to let tradition deter her from carving out her own path in life. Faced with a world where double standards are the standard, she works hard and with great intelligence in order to overcome every challenge that comes her way, showing resilience in times of tremendous difficulty. Living through sexual and other kinds of exploitation, she makes herself an example of strength to which other women can look when they sense that they too are being overlooked or downtrodden.
How do you respond to the worst of times? How do you respond to fear? To seeming defeat? These are the questions surrounding Anusha in Unfinished, and they are questions that Kay addresses with vigor and insight. Bravery, in times of injustice, is a commodity too valuable to put a price on: this is a truth that the author understands and that she illustrates with vibrancy within these pages!