Listen to Heart: Rhombus by Anuragam Vatsa & Sandeep Agrawal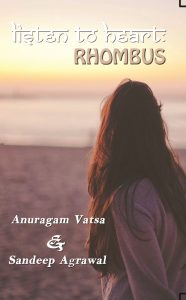 Price : Rs. 240, Pages: 127, Genre : Fiction, Language : English, Binding : Paperback, ISBN No. : 9789387852242

Click here to buy

From the highly acclaimed author of the Listen to Heart series, comes a story that perfectly weaves together a quadrangular tale of extreme emotions entwining the daily lives of its four main characters. Delving into the psychological contradictions of modern living and the inevitable, they seek solutions within the timeless preachings of The Bhagavad Gita.
Sneha is an ambitious and intelligent girl. But she fails to understand that her life is not in sync with her goal. She cannot accept defeat, and because of her anxiety and ego, attempts self-annihilation.
Monty sacrifices his love by suppressing his ego.