About us | Indian publishers for new authors | Book publishers in India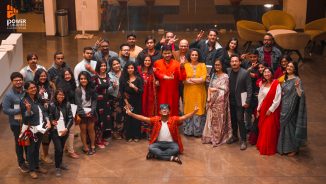 OUR STORY
We at Power Publishers are the proud contributors to the self-publishing scenario that took the publishing industry in India by storm a few years back. Today, we have as many as 1600 published titles under us spear-headed by young authors who have found a platform and a loyal reader-base with the brand.
Power Publishers took off as a self-publishing organization in January 2008 with a small team of core members headed by our founder Pinaki Ghosh, who was a published author of several best-selling titles by then. The idea of self-publishing was still nascent in the Indian topography and took some time to gain momentum. With more and more budding authors having new and important things to say and only a handful of publishing organizations to facilitate them, most manuscripts started falling in a 2-year queue, waiting indefinitely only to be rejected by the traditional publishing giants. Power Publishers started filling this gap in the industry by providing a medium for potential authors and the varied subjects that they wanted to write about. We struck gold with our initiative and soon we were publishing everything from paperback copies, to ebooks to audiobooks. Our services and departments multiplied and soon we started offering several other on-demand services like ghostwriting, screenplay writing, biography writing, comic book art and even song-writing services with the help of the industry's top writers and artists who have been associated with us every since. Soon, Power Publishers developed its Knowledge Process Outsourcing wing that reached out beyond the borders of the country and collaborated with media giants like BBC, National Geographic, Cartoon Network and several others over many challenging projects. By 2011 we had set a benchmark for self-publishing in India by publishing over 150 books, several of them been bestsellers. 2013 recorded the highest number of books published by us with a total of 283 new titles and in 2015, Power Publishers started its range of educational books and became the official publisher of the Bengali texts 'Sonkolita' and 'Probondho O Godyo Sonkolon' for the ICSE and ISC Council. With that we made our foray in the world of academic publishing and have had several successful titles since then.
The year 2017 saw the organization live two of its ambitious dreams – our Bengali audiobook app Power Talking Books accompanied by our first feature film in Bengali titled Sin Sister adapted from one of our own published titles. The movie was released this year and has garnered much love and appreciation. Sin Sister set the ball rolling for a new-fangled film division Power Publishers & Motion Pictures where today we produce everything from short-films, to features to ad films to web series with the help of a young team of industry professionals. Our short-film Synthetic Sati now streaming in Hoichoi and Mxplayer won several awards nationally and internationally making us a brand that people recognize with new-age story-telling. Our next short Agamani is available for streaming at addatimes. Sin Sister is also streaming in Hoichoi and Mxplayer.
Power Publishers recognizes itself as a brand driven by women since a large number of professionals within our freelancer base as well as our core-team comprises of talented women writers, actors and artists. The organization has also acted as a launchpad for several artistic talents who have made their mark in the regional as well as Bollywood movie industry.
Our mission is to strive to become one of the finest publishing platforms for new-age authors as well as bring something fresh and compelling into entertainment with each passing day.

Co-founders
Pinaki Ghosh (Captain)
Sonali Ghosh
Core team
Pinaki Ghosh
Sanchaita Biswas
Sangita Chatterjee
Pinki Bhatta
Avrajit Majumder
Editorial / writing / translation / screenplay
Sanchaita Biswas
Sangita Chatterjee
Judhajit Sarkar
Budhaditya Bhattacharya
Kaustav Ghosh
Sayak Karmakar
Sayantani Sengupta
Payel Dasgupta
Ankita Banerjee
Baisakhi Thakur
Mahima Das
Mohor Kundu
Simran Jaiswal
Ishita Sinha
Saheli Chakraborty
Sampurna Dey
Film team
Pinaki Ghosh
Rishav Ghosh
Sangita Chatterjee
Sayan Mullick
Judhajit Sarkar
Budhaditya Bhattacharya
Illustrators
Ani Ghosh
Ghanshyam Bochgeri
Rajib Das
Sanjoy Gharoi
Sandeep Saha
Anjan Mahanty
Video editors
Rishav Ghosh
Sayan Mullick
Amir Mondal
Cover designers
Kushal Bhattacharya
Dwaiyapan Mani
Marketing
Pinaki Ghosh
Audiobook team
Sanchaita Biswas
Himagna Maitra
Pratik Pradhan
June Maity
Ashish Hazra
Asim Gupta
Dispatch
Avrajit Halder
Press
Suman Ray
Kajalkanti Das
Accounts
Subir Nandi
Pinki Bhatta
PR
Pinaki Ghosh
Website Maintenance
Anindya Sundar Mondal
Tekmagus Infotech