Power Publishers publishes a book in 2 – 4 weeks from manuscript submission. Power Publishers is among the leading Indian publishers for new authors. Power Publishers, one of the leading book publishers in India, is an ISO9001-2015 certified company. 
History and various activities of Power Publishers
Power Publishers is part of a media group that has activities into many areas of media. Power Publishers started as one of the earliest Indian publishers for new authors, back in January 2008. Power Publishers besides being among the best self publishing companies in India, has a separate educational books division (Power Publishers Classroom) that has a complete range of textbooks and guidebooks for ICSE, ISC and West Bengal Madhyamik students.
Another significantly developed division of Power Publishers is Power Publishers & Motion Pictures, that deals in makings films. We have produced feature films like Sin Sister, short films like Drishtika: I See You, The Headphone, A Fling to Cherish, The Can, etc.; television commercials and music videos. This division also operates an internationally acclaimed screenplay writing service (TheScreenplayWriters.com),operational since 2009, a popular writer hire service (writer4me.com) operational since 2007, a comic book art service (comic-book-artists.com), operational since 2011.
Power Publishers has also released Power Talking Books, the first Bengali language mobile phone audiobook app from India, which is free to download on android phones from Google Play. It has short stories and novels from most of the leading contemporary Bengali writers.
Power Publishers has also started a traditional publishing division, Power Publishers Prime, which aims to publish bestseller books from bestselling authors.
Certification and clients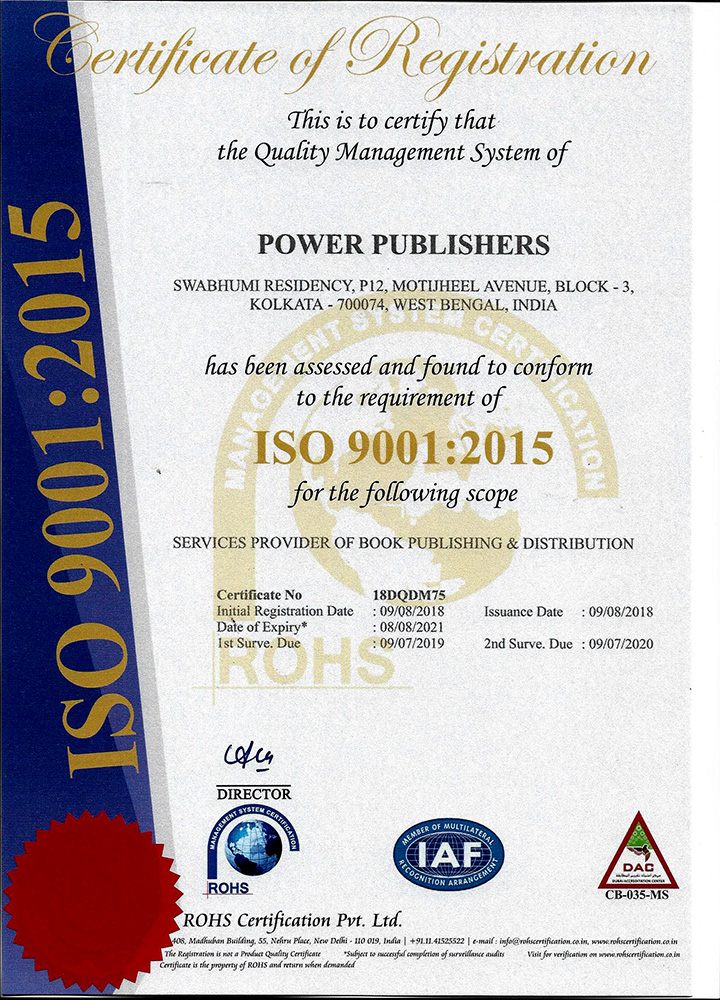 Power Publishers is an ISO9001 certified publishing company. We have participated in International Kolkata Book Fair, showcasing the books of first time and new authors.
We and our employees have worked with brands like BBC, National Geographic Channel, Marvel Comics, Motion Pixels, Channel 4, Cartoon Network, France 24 Channel, ABP Group to name a few.
Infrastructure
We have our own pre-press / editorial setup, art & design division, warehouse & dispatch section, PR, marketing,SEO, SMO, branding & promotion division, sales division, national and international distribution section. We work with state-of-the-art printing presses, video editing setup and audio recording studios. DTDC, Speed Post, DHL are our logistics partners, our distribution partners are Amazon, Flipkart, Snapdeal, Shopclues, Ebay, Infibeam, ReadBanglaBooks, Story, Oxford, Odyssey Bookshop, Future Books.
Mission of Power Publishers
Power Publishers is known to be among the trusted publishing houses in india for new writers. We believe there are thousands of talented writers and poets out there who are refused by conventional publishers just because conventional publishers only publish books based on the calculation whether the book is going to make profit for the company. They avoid specialized subjects. As such they make talented writers and poets wait for 4 months to 2 years before going through their manuscript and in 96% cases the reply they send is a cold 'Sorry, we cannot publish your book at this time'. This comes down as a major blow to the confidence of writers and poets leaving them heartbroken.
We at Power Publishers have tried to solve this situation. We neither refuse to publish, nor keep you waiting for an answer. We have a simple 4 step procedure to get yourself published – and you are assured to get your books in printed form within 2 weeks! Not only so, we send you enough complimentary copies so that you can sell or distribute them; pay you quarterly royalty with live statement of accounts in the author's dashboard; provide editorial and designing service, cover art, sales, promotion and distribution assistance. Your book is made available all over the country, across 10,000 PIN code areas of India and also internationally through popular bookstores like Amazon, Flipkart, Infibeam, Ebay, Snapdeal, Shopclues, Odyssey etc., through which your readers can by your book. We also search engine optimize your publication, so that it gets noticed online. We also send out copies of your book for review to popular media and you can see how many of our books have been in news or reviews over the media, if you visit this page (click here to see). We have also helped many authors organize their book launch event, photos of which can be seen here (click here to see).
Click here to watch photos of our Motijheel office.
You own copyrights and can also withdraw your book any time if a major traditional publisher agrees to publish the same book later.
If your child is a talented writer or artist; get her/his book published through us. We have a company policy and actively want to support talented children who write, draw and paint well to get published. 30% of our authors are between the age group of 9 and 25.
Renowned authors like Rudyard Kipling, Ernest Hemmingway, Stephen King, Amish, Mark Twain, E. L. James (Fifty Shades of Gray), and Walt Whitman had taken the help of self publishing to get their books published. We all know what happened to them later.
Co-founders
Pinaki Ghosh (Captain)
Sonali Ghosh
General Manager
Editorial team
Anupriya Dutta (Chief Editor)
Pinaki Dutta
Avit Jacob Gomes
Priya Das
Neha Agarwala
Nayee Banerjee
Sangeeta Chatterjee
Arjama Aich
Shibani Pathak
Suman Ray
Tumpa Das
Debolina Roy
Soumashree Mukherjee
Art & Design
Kushal Bhattacharya
Swarnava Bera
Sandeep Saha
Rishav Ghosh
Pinaki Dutta
Dwaipayan Mani
Ani Ghosh
Mithun Roy
Ghanshyam Bochgeri
Manasi Mallik
Accounts & Finance
Olivia Chatterjee Biswas
Subir Nandi
Marketing
Sales
SEO & Digital Marketing
Distribution
HR Recruiter
Events
Olivia Chatterjee Biswas
Anupriya Dutta
Logistics & Dispatch
Video Editing
Avit Jacob Gomes
Swarnava Bera
Printing Press Partners
Cyber Graphics
SMS Associates
Rays Dot Com
Lamino
Lokenath Enterprises
Logistics Partners
Website Maintenance
PR & Advertisement Partners
CarpeDiem Communique
IBNS
ABP LTD
Google
Facebook
IT Maintenance Partner
Internship Partner
Amity University, Kolkata
Power Publishers & Motion Pictures team
Pinaki Ghosh
Poonam Chatterjee
Kaustav Sarkar
Rishav Ghosh
Subhabrata Chatterjee
Anirban Ghosh
Judhajit Sarkar
Soumyashree Ghosh
Ani Ghosh
Mithun Roy
Swarnava Bera
Pratap Ghosh
Anjum Baba
Madhurakshi Ghosh
Budhaditya Bhattacharya
Anirban Banerjee
Anwesha Nag
Neha Agarwala
Payel Dasgupta