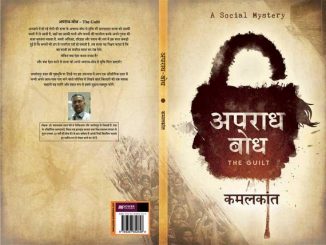 The author describes the feeling of guilt and ways to come out of it in his book Aparadh Bodh.
Congratulations on the release of 'अपराध-बोध' (Aparadh Bodh). What is the feedback from your friends and readers who have already read your book. 
More than 700 copies of my book have been sold out till date. All of my readers who have contacted me said that the book is really gripping from the beginning and so realistic that they could not help but read till the end in one or two sittings. The story is full of intense ideas built on untainted emotions, very crisp and has a heart wrenching ending, they say 
What kind of books inspire you as a writer? Who are your favorite authors? Books that address social issues and tell the story of man's struggle to triumph.  My favorite writers are Leo Tolstoy, Maxim Gorky, Premchand, Sharatchandra, Kamleswar, Harishankar Parsai, Margaret Mitchel, Mark Twain and so many more. 
Why did you want to become a writer? Who inspired you to become a writer? What triggered you to come into writing?
 I was a voracious reader from my childhood and read all the story books in my school library. Then there was a hardly literate uncle living next to my house. He used to tell us stories almost every night after the dinner. Stories of fairies and demons, kings, princes and princesses. Stories of flying horses and magicians.  All the children in the neighborhood would gather around his cot and listen to him till late night. His style of story-telling was so absorbing that it always triggered my power of imagination and took me into the world of fantasy. I wanted to become a story teller like him. One day I decided that I will write stories of the realistic world around me in my neighbor Uncle's story-telling style.  I started writing and in next few years established myself as a good writer. 
What are you doing to let readers know about your book? 
My book is being marketed by Power Publishers, Kolkata and they have made my book available on Amazon, Flipkart, Infibeam, Snapdea, shopclues, power-publishers and readwhere. I launched my book in Jamshedpur Book Fair in November 2018, kept my books in a book stall in the Book Fair along with a standee to attract people. The book was launched by the Ex-Chief Minister of Jharkhand, Arjun Munda. I got a lot of media coverage in Jamshedpur newspapers. I am distributing printout of the first chapter of my book for free in Jamshedpur. I have a Facebook page, Aparadh-bodh. I am also promoting my book on my own Facebook wall and on Whatsapp. 
Say something about your book. Some highlights. 
Every one of us some time or the other have come across some situations in life when knowingly or un-knowingly we have committed some mistake that we deeply regret and as a result we curse our own self and torment our hearts. It is very difficult to come out of the feeling of guilt.  Often we cannot muster enough courage to accept our guilt. This story gives us the courage to accept our guilt. This is a story that revolves around a Bengali young man Satyajeet Pal – Satya. His desperation to get rid of the guilt of unintentionally killing Gopi brings him to the slum where the latter lived. He decides to look after Gopi's wife and children and serve the sentence of the crime that he had committed. The slum area is in the clutches of lack of education, poverty and alcoholism, where proper upbringing of the children is not possible.  Then he decides to change the entire milieu of the slum street. But he lacks leadership quality.  His sheer determination unfolds opportunities and he gets the help of women folks of the slum, who take up the lead and with Satya's guidance become instrumental in bringing about the change in the society.  This story tells how education can lead to women empowerment and social development on the backdrop of Satya's guilt. I have tried to explore if someone can ever be relieved of his guilt and what is the price he has to pay for it. 
Tell me something about yourself and your background.  
I am a medical doctor by profession and a writer at heart. I am a resident of Jamshedpur. I have worked for about 18 years in the industrial hospitals of the city, state government of Bihar and Jharkhand and 10 years as a consultant in World Health Organization. My first story got published in the local magazine when I was in the schools. My first novel was published when I was in standard nine. After that I wrote many short stories, poems, satire columns in newspaper, one act plays and a street play. I was the editor of my school magazine and a regular writer in the Hindi magazine published by the students in the Medical College. A few of my short stories won prizes in story writing competitions. Many got published in newspapers and magazines in my school and college days. I was the script writer of a video published by WHO, while working for the organization. After passing out from medical college I got very busy in my professional carrier and hardly wrote anything.  Now when I feel that I have so many things to share with the world, I took an early retirement from my job, started my own clinic and I am spending most of  my time  writing something, which I believe in and enjoy.I am also planning to write screen plays for movies. 
Do you plan to take it up as a full time profession if response is good? 
I am already actively engaged in writing books. My second book in English is almost complete. The third one in Hindi is half way though. The synopsis of the fourth one has been written. All these books will be printed in next six months or so.  I am quite confident that people will like my style of writing.